The LINK | LINC, Inc. June Newsletter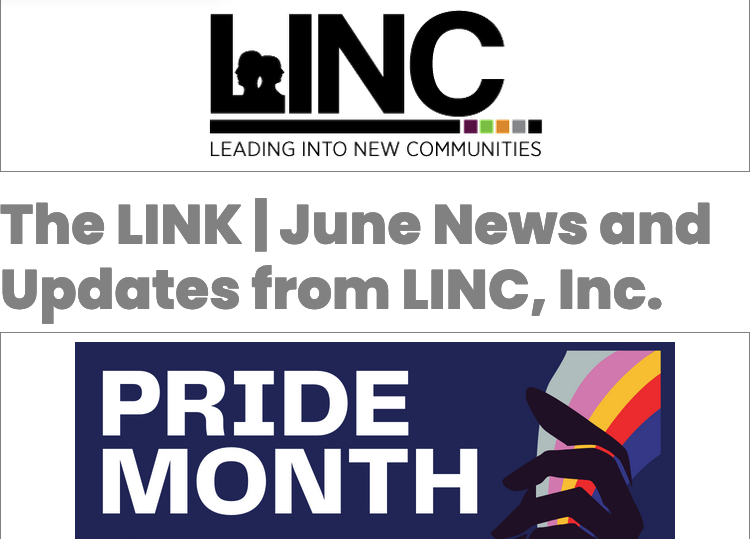 The LINK | June News and Updates from LINC, Inc.
In an effort to make LINC a fully inclusive space, we are promoting the opportunity for LINC Ally certificates and training to become safe-zone certified. There are currently three LINC staff members who have been certified as Allies: Stephanie Straughn, Dwight Hale, and Telesa Jones. They will help further the creation of safe-spaces within LINC. 

"Being an ally is more important than ever as we are currently seeing attacks against the LGBTQ+ community within both social and legal settings," says Cooper Mertens, LINC Data & Impact Coordinator. "According to ACLU's Anti-LGBTQ Bill Tracker, as of this week there are 491 current bills spreading throughout our nation, twelve in NC that directly target and/or harm the LGBTQ+ community. Speaking as a non-binary individual, we cannot fight these bills and this hate without the help and uplifting of our allies."
North Carolina Voter ID Requirement Will Impact LINC Clients
Voter IDs will now be required to vote in upcoming elections. This comes after the NC Supreme Court overturned Moore v. Holmes. Voter ID legislation has been historically rooted in the systematic oppression and disenfranchisement of Black Americans.  

Required ID for voting: 

• North Carolina driver's license
• State ID from the NCDMV (also called "non-operator ID")
• Driver's license or non-driver ID from another state, District of Columbia or U.S. territory (only if voter registered in North Carolina within 90 days of the election)
• U.S. Passport or U.S. Passport card
• North Carolina voter photo ID card issued by a county board of elections (available soon)
• College or university student ID approved by the State Board of Elections (available soon)
• State or local government or charter school employee ID approved by the State Board of Elections (available soon)

"Our Clients face barriers in obtaining the ID's that are necessary for voting and mounting barriers oftentimes are discouraging our Clients from voting," emphasizes Telesa Jones, LINC Justice Services Coordinator. "It has never been more critical than it is now that our elected officials reflect the values of our communities. We must stress the importance of going to the polls in the interest of our Clients so that these forms of discriminatory legislation efforts fail in the future."
LINC Shows Up for Second Chance Lobby Day
Members of the LINC team, including staff of Eyes on the Law, attended Second Chance Lobby Day in Raleigh to advocate for policies that afford second chances to justice-involved individuals.
LINC Celebrates 9th Annual Milestones Dinner and Awards
2023 LINC Society Members
At this year's Milestones Dinner, LINC celebrated three inductees to the LINC Society:

LINC Society Corporate Category
Chris Coudriet, County Manager
New Hanover County NC

LINC Society Business Category
William Parrish, Owner
William Parrish Plumbing Inc.

LINC Society Non-Profit Category
Rickie Houston, Director of Healthy Manhood Initiatives
A Call to Men

LINC Society Volunteer Category
Natasha Davis, President/CEO
WPS Strategy Group LLC

Since 2015, Leading Into New Communities, Inc. (LINC) annually recognizes organizations that have demonstrated a deep support of LINC's mission to empower men and women returning from incarceration to become productive community members, and to motivate youth to make positive life choices. These organizations and individuals are inducted into the LINC Society.
It is always an excellent time to make a gift to support the work our clients do to put their lives back on a successful path. We believe everyday that no one individual's potential should be determined by the worst mistake they have made. #WeBelieveinSecondChances
Items of Note | Kudos and Welcomes
• In May, Frankie Roberts won a Pioneer award at the NC Second Chance Alliance Gala.
• Steve Lee, long-time LINC controller, retired in May.
• LINC welcomes new staff member Erik James.
• Eyes on the Law, the LINC initiative spearheaded by Telesa Jones and Cooper Mertens, to educate the community and establish a reputable series of publications that present new perspectives and offer insight and solutions to the issues our society faces, is making those publications available online. Find them here.
• Eyes on the Law are seeking interview candidates for a publication on the impacts of growing up with incarcerated family members. If you are interested, reach out to eyesonthelaw@lincnc.org.  
Programs at a Glance