The LINK | LINC, Inc. July Newsletter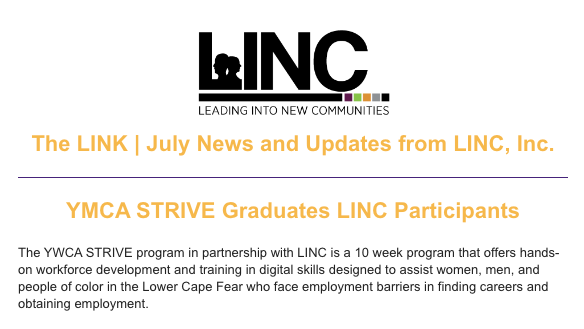 The LINK | July News and Updates from LINC, Inc.
YMCA STRIVE Graduates LINC Participants
The YWCA STRIVE program in partnership with LINC is a 10 week program that offers hands-on workforce development and training in digital skills designed to assist women, men, and people of color in the Lower Cape Fear who face employment barriers in finding careers and obtaining employment.  

Topics of Discussion include the following:
Digital Skills for the Workplace
Essential Skills
Entrepreneurship & Business Skills
Financial Independence 
Critical Thinking
Leadership Skills
Personal Empowerment
Teamwork & Collaboration
Career Coaching
Presentation Skills 
Balancing Personal & Professional Obligations

Tasha Majette came to LINC as a resident in December of 2021, and was chosen to be the facilitator. Tasha took the training and did an excellent job of teaching the hands on skills. The class started out with 7 participants, of which two completed the course: Myeisha Brown and Britini Murray. They graduated on May 31st. Both received a certificate of completion and a gift card. Ms. Velva Jenkins, CEO of the YWCA of the Lower Cape Fear commented on the young ladies for a job well done. Other words of encouragement were from the YWCA Outreach Director,Jhaniqua Palmer.

"We are trying to offer more classes to help those that are coming home from incarceration, so that they will be better prepared to get jobs, housing and just be better for themselves," says Linda Thomas, Lead Case Manager/Local Reentry Coordinator, LINC-Local Reentry Council.

For more information on the STRIVE program, please Jhanique Palmer at (910)799-6820 or email at outreachdir@ywca-lowercapefear.org
Pictured, l to r: Velva Jones, YWCA CEO; Myeisha Brown; Tasha Majette; Bitni Murphy; Jahnique Palmer, YWCA Outreach Director.
Food Lion Brings the Cool to M.E.R.
Food Lion regional supermarket chain donated two new freezers to LINC this past month, facilitated by the Food Bank of Eastern NC. Food Lion volunteers also came to stock the M.E.R. Residential Campus pantry with donated dry goods. These donations help LINC serve clients immediately and over the long run, as well.
Clothes Closet Replenished with the Help of OES Rose Fidelity 651
Linda Thomas, Lead Case Manager/Local Reentry Coordinator, LINC-Local Reentry Council, met the ladies from OES ROSE FIDELITY 651 at the Clothes Closet at 1019 Princess Street.

Donations to the Clothes Closet help citizens reentering the community as they restart their lives and look for employment and educational opportunities.

"We are happy for the opportunity to help," says Janie Anderson, with OES Rose Fidelity.
The Rose Fidelity Chapter 651 also made a donation of hygiene products to benefit LINC clients.
LINC Inc. Represented on Equity Matters Webinar
Cooper Mertens was part of the June Equity Matters Webinar Panel on Equity and Advocacy with Gender Identity. This webinar was organized by New Hanover County Health and Human Service's equity coordinator Fawn Rhodes. On the panel, Cooper shared LINC's programs and talked about how LINC is an organization committed to continuing to fight for equitable access to reentry for all individuals returning from incarceration and their family members. She also shared that LINC is inclusive of LGBTQIA+ clients, family members, staff, and community.

"I just want to give a shout out from the tallest mountains in America, Cooper did marvelously on the equity panel," says Frankie Roberts, LINC Director. "I am proud to be on her team!"
The webinar can be found here.
Make a mid-year gift to support the work our clients and staff in furthering the mission of LINC, Inc. We truly appreciate you.#WeBelieveinSecondChances #Inclusivity #Rentry
Items of Note | Kudos and Welcomes

• In the News: Wilmington Housing Authority approves contracts with police, LINC

• LINC welcomes new staff members:Jamir Jumoke has assumed the role of PH2 Peer Support Specialist

• Be on the lookout for Eyes on the Law's upcoming publication: "The Bars Between Us" which will focus on the experience of children or people who have grown up with incarcerated friends or family members, highlighting how the impacts of incarceration reach beyond the walls of prison and into the lives of families and children. 

• LITE Summer Experience is going on right now. The program is led by Malik, Demond, Keon, and Leo, and creates a space where kids grades 6-12 can get the opportunity to learn about music production, podcasting, and virtual reality. There are opportunities at the end of each week for community-engaging field trips. 
Thank you to Cooper Mertens for the LINC program graphics.