Meet the People Behind LINC: Daquan Peters, NHC Second Chance Alliance Coordinator

How did you first get connected with LINC?
I was released from prison back in September 2019. I had already known about LINC because I took my youngest brother – he was getting into a lot of trouble – back in 2006, and I had already known the work that Frankie was doing. I took my brother to him, and they sat down, to talk about the situation. Frankie took him in, and helped him out a lot. He graduated from LINC's L.I.T.E. Manhood program. Actually, at the time, it was called "Youth Build." They were teaching trade skills, how to build things. They were working with a contract at that time, with the Housing Authority. The participants were redoing and fixing things within the apartments.
From that point on, I have been watching what LINC does. I got incarcerated in 2007 – I was sentenced to 262 months, for possession of crack. When I was in prison, I began to build myself up, telling myself, "Hey, this has to be it." This has to be the last straw, because I was sentenced to 22 years, and I was 32 at the time. In my mind, that was a life sentence.
How did you manage the disconnect? You were living a life that could get you in trouble with the law, and yet you were trying to help your younger brother from going down a path that would have a bad outcome.
True. I didn't want my brother to get in trouble. In my mind, in my way of thinking at the time, I would be the sacrifice for my family. I was already seeing at the time that that wasn't really the life for me. So that was the breaking point of my transformation out of the street. I used to ask myself that question because what I kept telling myself was that I needed to learn to lead by example, because my little brother wanted to be like me.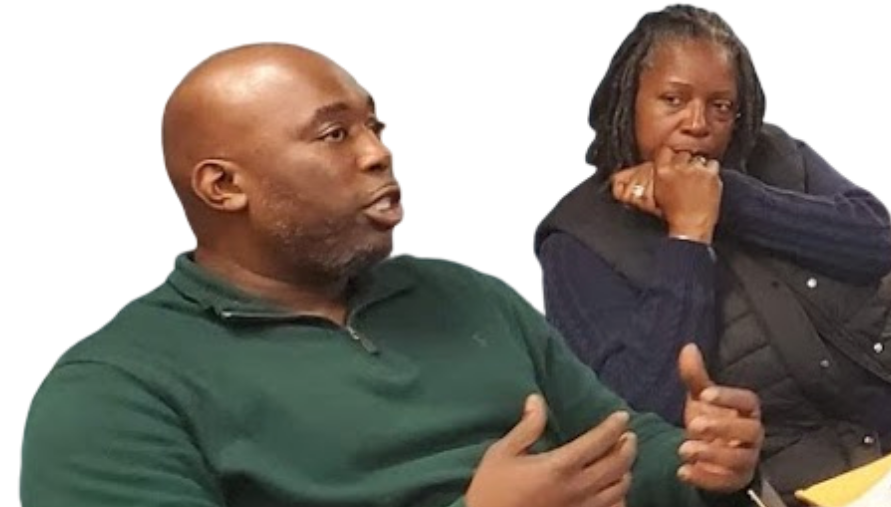 It's not the culture of "don't do what I do, do what I say." It was a culture of them doing what you were doing, not what you said. So at that point, I began the process of opening up my bookstore. I was going to make a change. It was the African American bookstore on 17th Street and Market.
At that point it was just one bad decision that I made – literally, I had just left the streets alone and I made a single bad decision to be dealing with somebody. That cost me my freedom.
You are a very positive person. How did you not become bitter?
I don't regret it because that was the point – in my mind – the wake up call. You do get that wake up call, like hey, you made a choice and decision – no matter what some other person did to you – I could have told him no. I could have told him no. I have to take full responsibility for my action. But that was the beginning of my mental transformation. I had to learn that you don't put the blame on somebody else, and say, this person did me wrong.
I did myself wrong. Now I had to accept that I would suffer the consequences and the repercussions of my own actions. That consequence was me being sentenced to 22 years. Twenty two years and ten months.
That was no small consequence. It was a life-shattering consequence.
Very much so. But this is how I began to really focus on learning the law. I felt like – being a low level drug dealer – I didn't deserve 262 months in prison. I saw people with multiple keys of cocaine being sentenced to much less time than me.
So, I began to learn, and I began to study, and to pay attention to legislative bills and how they come about. In the process of me rehabilitating myself, I realized that in all actuality, they are not going to do it for you. No one is going to help you more than you can help yourself. To get educated while you are in prison, you have to take total control of your life – even though they have control of you. They might have control over your physical self, but you have control over your mental self. That is how I had to proceed on my journey through the system.
That's a huge leap. Not a lot of people can make that when they are so completely demoralized and dehumanized. To feel like you always have control of your own destiny. Did you feel like you were in a minority of incarcerated people who have that mindset?
I would say yes, and no. Once I got in – and this was my fourth time going to prison – that was one of the biggest things that I had to focus on. I said, hey, man you've been to prison too many times, and been in-and-out of prison all your life. From the time I was 17 up until then I had been in the system – it presented me with a breaking point. At some point, you have to change the cycle for yourself.
So when I went in – and I'm glad you asked that question about the minority – because once you get in there, you will meet a lot of brothers who feel as if "we don't want to see you back and forth in prison." So what you have to do is surround yourself – the same way you do out here in society – with people who want the best for you. In there, I had to do the same thing.
Keep in mind, I was kind of bitter. And I was kind of angry at the system. And I was kind of mad at how it was done, but I couldn't let that fester and boil over and cause me to make that place my home.
What did your future look like to you, at that point?
You can easily go to prison, and never come back out.
That's because of the culture that's inside a prison. So within prison, I had to sit down with people who wanted to do better for themselves. It's a minority – but it's also a majority – depending upon where you are at, and what you seek out.
In prison, you are surrounded by a lot of different, but also like-minded, people. When I say "different," I mean they are different in the sense of they are all individuals, but you can seek out like-minded individuals in that they were people who were able to elevate their mind outside of the walls. And the gates.
How did you elevate your own mind?
You begin to get an education because you have a lot of people who do things that are very different from where you have been. You have stock brokers, you have politicians. You have a lot of different people in there with a vast knowledge system, covering different things.
I met a lot of people who helped me out. They mentored me. They taught me a lot of skills. I would say it was a majority of people because that is what I sought out. In the prison system, there are a lot of people who really want to better themselves because they know they have to do better.
So I began to take bits and pieces from everybody. I applied it to myself.
What was your experience with reentry inside of the prison system?
One of the things that the prisons always had were "reentry programs." They teach life skills, job skills, financial literacy, what they think you need to reenter society. I used to think, if I can do this in here, I can be outside these walls and do this.
I can go out in the world and do this. I can get out there and educate some of the people that don't know what really go on within the system because they are too focused on living their own everyday life, and the hardships that confront them, and they don't have time to sit down and actually think about "reentry." Or the treatment of people in prison. Or how the laws are going made, and how the laws are being applied. They aren't directly impacted by this but they don't realize that when you go to prison, your family goes to prison, too.
How much of a leap is it to go from the experience of incarceration to reentering society?
I honestly think that prison is a breeding ground for monsters.
What I mean by that is that if you use adaptive behavior, you change yourself to adjust to your environment. Prison can take a nonviolent person, someone who has never been violent a day in his life, and can put him in an environment where he has to be violent to survive. They end up tripling their time; it's called stacking. The system will put these people in the worst prison, and now you don't even have the person that went into prison in the first place. When you go into the worst prison as a nonviolent person, just to survive you have to adapt to the behavior that is going on around you.
If you want to keep a positive mindset, but in order to survive you have to adapt to certain things. That doesn't make you a bad person, that makes you a survivor.
Society doesn't know this, though. And because society doesn't know these things, I feel like I should be a voice for those who can't speak up for themselves. Like a voice for the voiceless.
So, you understand both sides of the system. And you can speak for those people who are currently incarcerated and caught in that trap of trying to survive, and those who are coming out of incarceration and need their second chance.
Yes, and that's the major component of everything. That second chance.
Like me. I was sentenced to 262 months. I did 12-1/2 years of that time. When Donald Trump signed the First Step Act, in 2018, within that Act were prison reform and sentencing reform. The sentencing reform part of the bill was to make the Fair Sentencing Act of 2010 which Obama signed into law, fully retroactive for those that were already incarcerated. There were plenty of incarcerated people who benefitted from that. The Fair Sentencing Act was the 100:1 Crack/Powder Cocaine Sentencing Disparity, meaning that 5 grams of crack would get you a mandatory five years. Even if you were a first time offender.
With the enhancements added, it increased the guidelines for sentencing, which created a situation like I was in, sentenced to 262 months. I benefited from the Act because that was my case. When the guidelines were recalculated, I had pretty much done the recommended time that they could give me under the new law. So, I received a blessing.
That legislation really was your ticket to getting out?
Yes, that's how I'm able to talk with you on this phone, right now. To be able to do the work that I am doing now. That's where my passion comes from.
And that passion has landed you as coordinator for New Hanover County chapter of the Second Chance Alliance. What is the most important thing you want to contribute to the position?
I definitely can contribute my passion. And my experience in the system. And first-hand the experience of coming home, and having been met with barriers placed in front of me. I am a felon. You know, I didn't have time to prepare to come home. I was picked up out of prison one day, and dropped back off in society. I did 12-1/2 years, and I got a gate check of $52.
I went to Social Services, because I moved in with my daughter and her elderly grandmother. I have children, and when I came back home, I had two grandchildren. I wanted to contribute, so I went to get food stamps, but I was denied because of my felony drug conviction.
So you start turning places to put your life back together, and doors close in front of you.
Life closes in front of you. That's what the Second Chance Alliance is about. It breaks down those barriers for those people who are reentering society.
I didn't have the opportunity to be able to prepare. I don't come from a well-off family. I don't come from a family that had money. But I did have moral support.
You can't come to a person who is in my situation – who was incarcerated for a decade plus – and think that they are ready to take on the responsibility of a family. I'm nothing to anybody unless I'm something to myself. So I had to build myself up.
So what did you do? Where did you turn to start rebuilding your life?
What I did was – the very first thing I did when I came back – was to start a youth mentoring program called ROOTS – Rising Out of the Streets. That right there was the motivation, by seeing how people responded to me, and helped me, and showed me the way. In the process of doing that, I went to the Local Reentry Council at LINC.
I started going to the Second Chance Alliance meetings. I started volunteering. I participated. I had already known Frankie Roberts, so that was a blessing that put us together again. With my drive and my passion, I was a fit for the position of Second Chance Alliance coordinator. I made an impact on the interviewers during the hiring process.
You are in a position of influence now, in the reentry sector, with lots of possibilities. Where do you start?
I have to build a base consisting of directly impacted people – people coming home from prison – and find resources that help us make this one of the biggest and best chapters of the Second Chance Alliance in the state.
There are plenty of initiatives for us to tackle. For example, I have a list of 7800 individuals with felony convictions, right here in the county, who could vote if they were registered. They don't realize they are eligible. So what we're going to do is phone-banking, strive to bring them in, and help them understand that they do have rights. Voting is where it all starts, especially with me. I never thought I would be able to vote again, and never thought that I would be in a position to tell someone else about their rights.
Where do you have leverage, and how do you go about making change?
I can't complain as somebody who doesn't have the power to actually change legislation. But we can build a base and all use our voice together to go tell the legislators that the laws they make are creating barriers to success for individuals reentering society.
When you have a group of people, and you have all these voices, you have built a power base. Now, you can't tell us that we can't do something because we are no longer ignorant to the rules. With power, we can ask that reentering citizens be seen as people, first.
That goes to the issue of language, too. We don't use ex-offender, ex-prisoner, ex-felon. We use the term formerly incarcerated, because we are people. Ain't nothing good about an "ex."