Meet the People Behind LINC: John Fellerath, Ph.D., Volunteer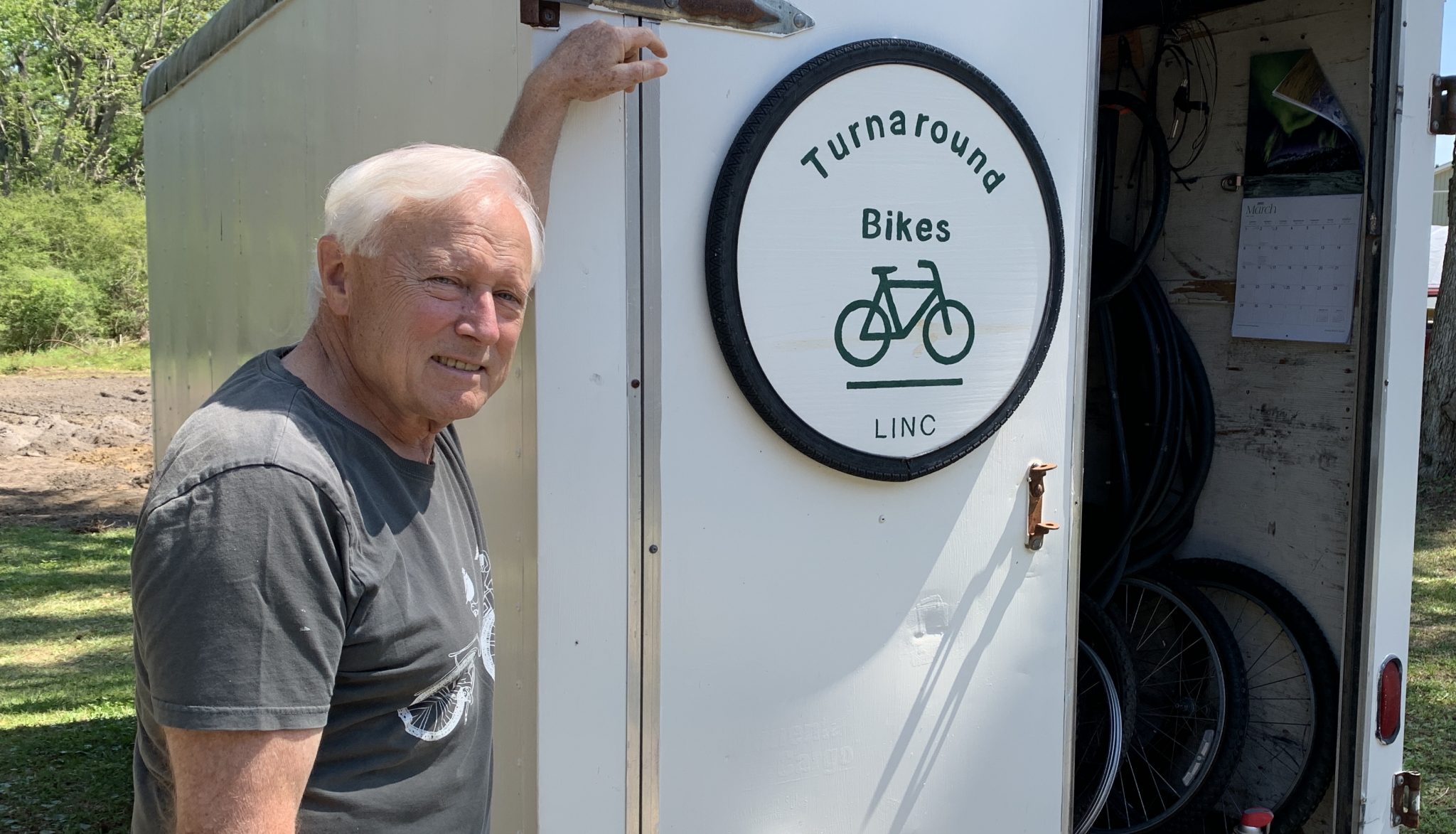 You've volunteered at LINC in many capacities over the last ten years. How did you first get involved?

When I retired to Wilmington in 2008, I was interested in getting involved in a community program intended to help people returning from prison. There are simply too many people in prison in the United States and the folks returning from prison need help when they get out.

Not long after I got to Wilmington I started asking around to learn who was involved in that kind of work, and I was directed to Frankie Roberts. He was working on Castle Street then and doing what I wanted to help with. He's dedicated to this work, and I admire his commitment.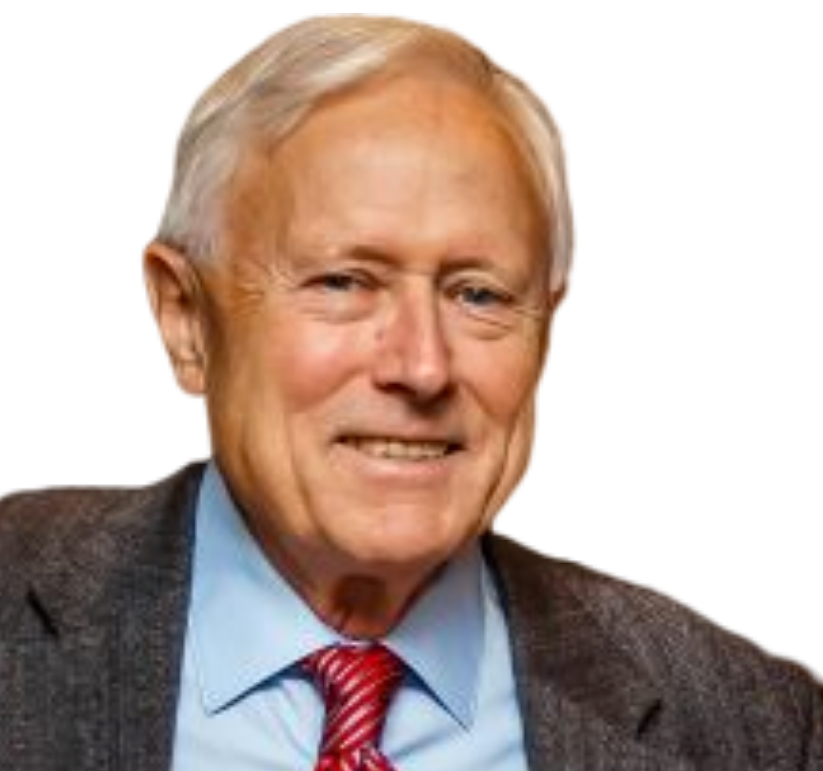 Ten years at LINC, that's half the life of the organization. You've been involved in a good part of its growth.

Over the last ten years, I've worked on a variety of things – pretty much whatever Frankie asked me to do. I helped with some of the planning for the Marvin E. Roberts campus. When we moved into the renovated facility, I helped set up beds. Then, for a couple of years, I ran the Tuesday evening group meeting with the residents here.

How did your professional career lead you to the commitment you have in assisting with reentry services?

I am a psychologist and have worked with people all my professional life, although my practice wasn't related to reentry. I started in public mental health directing the adult services at Blue Ridge Community Mental Health in Asheville. Later, I ran a group home for troubled teenagers for three years in Chapel Hill while my wife was in law school there. And then I spent almost 20 years in private practice as a psychologist back in Asheville providing direct services for adults, couples and teenagers. I testified in court a few times along the way, but I was not involved with forensic work as a primary service.

In my early fifties, I felt ready to leave private practice. I had worked a long time in providing direct services and was ready to do something different. In 1996 I took a position at the University of Alaska Fairbanks as director of the Student Health and Counseling Services for the university. It was a wonderful opportunity for me, and my wife was hired to teach the law courses in the Political Science department. With summers off, it also gave us a chance to do a lot of camping and see the beautiful wilderness of Alaska. I gradually took on responsibility for a number of other programs and retired as Associate Vice Chancellor for Student Services.

Aside from testifying in court a few times in both civil and criminal matters, my only direct experience with people in prison was in the summer of 1970 when I worked on a research project at the Ohio Penitentiary, the maximum-security prison in downtown Columbus, Ohio at the time.

It was my first serious experience with incarceration – who was in prison, why they were there, and what happened to them while in prison. I needed to pass through three locked gates to get to my office which was a cell. I worked there for only three months, but it gave me some insight into the prison system.

You had extensive experience with mental health practice, then, and some exposure to the criminal justice system. How did that resonate with the societal issues that you personally find compelling?

I had pretty limited professional experience with the justice system, but as a citizen over the last 30 to 40 years I've really seen how the country has put more and more people in prison. More and more men in prison. And, in particular, more and more black men.

Other countries have their own problems with law enforcement and law breakers, but they deal with violations of the law and imprisonment quite differently. I saw that we in the United States have more individuals in prison per capita than any European country – in fact more than China, more than Russia, and more than every other repressive regime in the world.

As a citizen, and as a human being, I began to notice how unfairly – and unwisely – we address criminal problems in this country.

We make more things criminal than need to be criminal. We don't treat people the same when they present with the same problems. Since the 1980's in particular, we began to sentence offenders to longer and longer terms in prison. Over the same period, we have cut back on educational and training opportunities for incarcerated people and made it more difficult for them to get work after release. And then we wonder why people have trouble when they come out of prison.

So you were motivated to find a place to contribute your own efforts at making change.

When I retired, I decided that I would commit some of my time to this problem. It was not an accident that I found Frankie; I went looking for Frankie or someone like him. When I found Frankie, and saw what he was doing, and saw that he had committed his life to this, I thought this is a person to whom I could offer my assistance. I would try to be helpful.

Do you feel like you've been helpful, and that you've made a difference?

It's really hard to know.

I'm fundamentally an optimistic person, and I tend to see and remember the good things more than the bad. So I'm not sure I'm always the best judge of whether I'm really helpful. It's difficult to know whether one's efforts today have an impact in the future.

It's difficult to know whether one's efforts today have an impact in the future… If the balance is positive, it's worth the effort.
I spent a career in mental health work, and occasionally I would get a letter or phone call, long after I'd last seen a client, telling me how well he or she was doing and how much my efforts helped. But I also saw situations where it was clear that I hadn't helped at all. If the balance is positive, it's worth the effort.

I like to see the people who come here succeed. Many do succeed. Some don't. I've started saying to new residents when they arrive here, "This is a great resource. You can use it to succeed. But it's really all up to you. There's food, shelter, help with your health needs, help with employment and staff that care what happens to you. If you make use of this program, it can be a great help to you. But it's up to you."

Then we wait and see. Many people do make good use of this program, and they succeed. And some don't make good use of it and they don't succeed.

LINC is the micro solution. Do you see that effort being made at a macro level? Do you think that things are changing beyond what LINC does for returning citizens?

I am optimistic at the trend in the country. I began to notice a subtle shift maybe ten, maybe even fifteen, years ago. People began to talk a little more about the criminal justice system, about whether it was fair and whether it worked. For example, we began to see some "innocence projects" demonstrate that we sometimes imprisoned innocent people. We began to see some serious concern about the reasonableness and efficacy of long prison terms for some drug offenses.

At first there was no obvious change in public policy, but there was the beginning of a greater awareness. I think we are now beginning to see some changes in public policy, and certainly with the emphasis on helping with reentry.

Many people knew these things ten or twenty years ago, but the public hadn't come to see what was going on in the justice system. Perhaps the public and our political leaders are coming to see that it's in the public's own self-interest to change the criminal justice system. To make it fairer at every level, to reduce the number of people we put in jail, to re-evaluate the sentencing process, to provide better education and training opportunities in the prison system, and to provide better opportunities and greater support for people when they get out of prison.
Curiously it doesn't even have to be about doing what's right or good in some ethical or moral sense – reforming and improving the justice system just makes practical sense.

But it is doing good. It's helping others.

Of course, that's certainly part of my motivation – to do a little good in the world. But I think there are other reasons for doing these things and the general public – the people who vote, the people who make laws, the people who are in the police and the court system – it's in their own self-interest to reform and improve the criminal justice system. We will all have a fairer and happier and more productive world.

There is an interesting shift in the approach to some criminal justice issues with respect to the COVID-19 pandemic. It is motivating some closer inspection of existing practices.

Yes, exactly, and I think I see the beginnings of some actual change in public policy occurring.

Sometimes good things emerge out of crisis and pain. No one is enjoying the current pandemic. But some good things may come out of it and we should be happy to see that. On my way down here to talk with you this afternoon, I was listening to a public radio interview with Cheri Beasley, the Chief Justice of the North Carolina Supreme Court. She was talking about the changes that the judicial system is making or is considering in light of the coronavirus threat.

She gave a number of examples, but I'll just mention two. In some situations, people may be given citations instead of being arrested. And some people already in jail and waiting for bond hearings may be released on their promises to appear in court as scheduled.

If we think about this differently, perhaps what Chief Justice Beasley is telling us is that we are arresting people we don't really need to be arresting – maybe a citation would be just as effective. And maybe our cash bond system is overused and should be overhauled. In short, perhaps the stress the coronavirus is putting on our judicial system will force us all to reevaluate and modify the system for the better.

You said something about the randomness of circumstance that is interesting, and how it impacts the challenges we face. Can you explain that a bit?

One of the things that has come clearer to me over my lifetime, certainly during my adult lifetime, is how many things in our lives are random. I didn't plan them and I didn't earn them and yet those things had a profound impact on my life. Let me give a few examples.

I was born in the United States. With that came advantages that I did nothing to deserve. I was born a man, and there's no doubt that men have been treated better than women and have had greater opportunity in life over the last 40,000 years or so. Fortunately for women, that has changed a good bit over my lifetime, although we have further to go in this country and in the world. I was born white, and with that came all kinds of advantages of which I was largely unaware during childhood.

But as an adult, I started to see clearly how differently people were treated simply on the basis of skin color, and being white handed me unfair and undeserved advantages whether I wanted them or not. Today, folks like Prof. Tim Tyson at Duke use the phrase "white privilege" as a way of highlighting this phenomenon, and I think that's a good description.

Many things in life are random and lead to unfair outcomes. I can influence some things in life, but many more things than we care to admit are random and just the luck of the draw.

I think it's important to acknowledge the advantages that I've had – to recognize that many things have been given to me through no effort of my own – and then to assist some of the people who have not had the same advantages I've had. If I can do something to help mitigate some of the problems that our country has created for itself, then maybe I can make a small difference.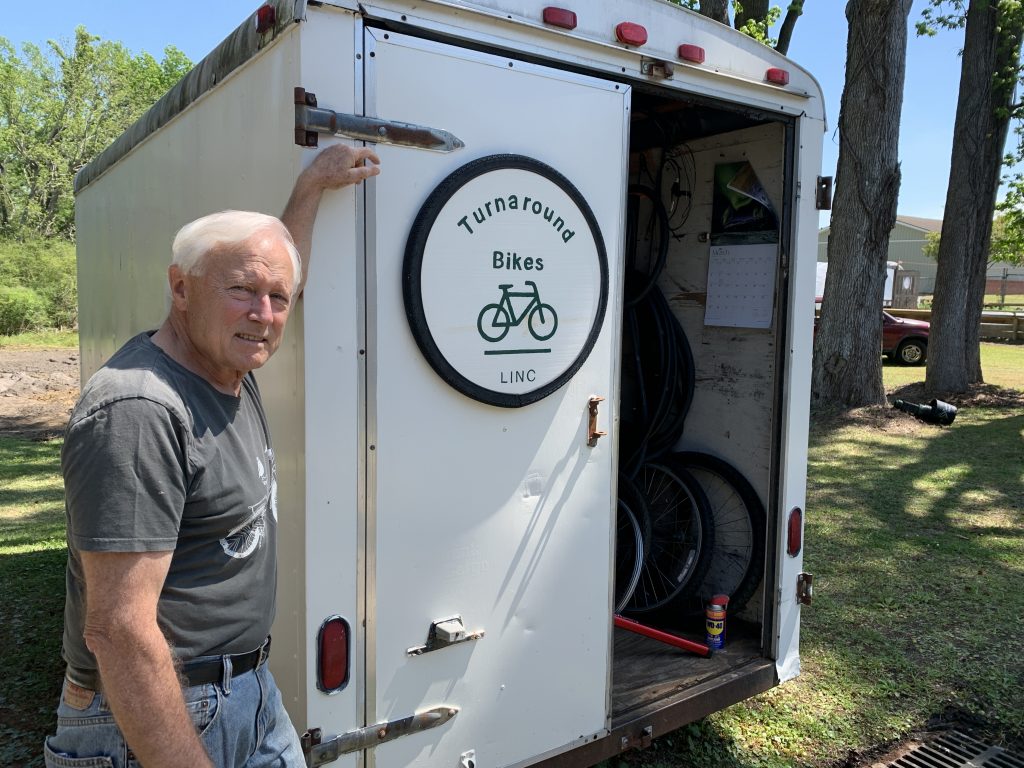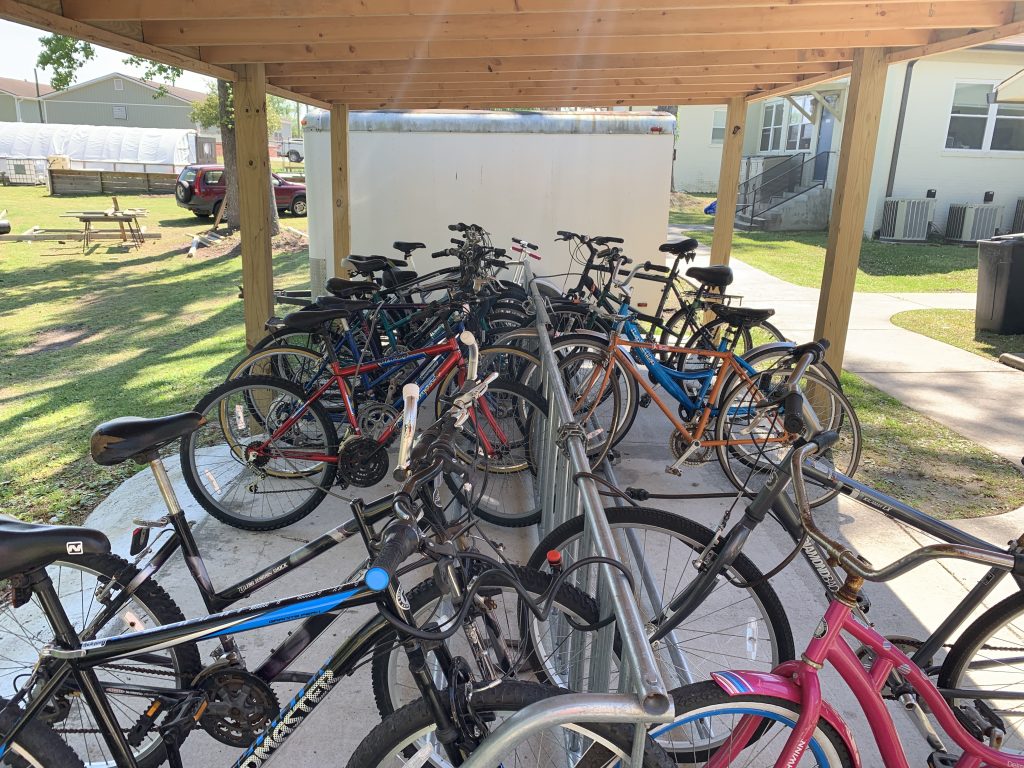 Let's end with this: the bike thing. Lots of people who know LINC think of you as the "bike man." How did that come about?

Not long after the MER campus opened, PPD gave LINC fifteen or eighteen bikes and one of our bike racks. There was no plan for the bikes and there were a lot of competing pressures here, so the bikes began to fall into disrepair. Sometime after that, I was feeling ready to stop leading the Tuesday group and was looking for something different to work on. I wanted something a little more 'hands on'. I like bikes and I've always had a bike. I have lots of good memories around bikes. I think they're useful and fun; and I've always liked fixing things. It seemed like a good fit.

I began to fix the flat tires on the bikes we had and make little repairs. Gradually I expanded that. I brought in more bikes and Frankie got a canopy to cover the bike rack.

With my wife's creative suggestion, I've given the program here at LINC a name – Turnaround Bikes. It really captures the spirit of the program.

As we expanded, the program got a second bike rack and Vince Burgess and some residents built the permanent shelter. Two Wheeler Dealer here in town has been particularly helpful. They often accept old bikes that people discard when they buy a new bike, and the store passes them along to community nonprofit groups like LINC. TWD gives me some of the used bikes and I repair the bikes and get them back into use.

Bikes are such a practical addition to the benefits that LINC offers residents.

This is exactly why I like the bike program. When residents come here, most of the time they don't have a car. Some don't even have a valid driver's license anymore.

Wilmington is a small city. It's not more than five or ten miles to anywhere you need to go, and in recent years the city has tried to make roads more bike friendly. A bike is an inexpensive do-it-yourself kind of transportation. It's good for your health. It gets you outdoors. It makes you self-sufficient.

Working on the bikes and creating a process for giving them to residents seems like a useful thing for me to do. Once a resident is settled in at the program and doing well, he or she can ask for a bike. We give the resident a bike at no cost with the agreement that the resident will buy a lock for the bike. When the resident leaves the program, he or she can keep the bike. Some take bikes when they leave and others leave the bikes to give to other residents. There is a bike here right now that has been given to three successive residents. There's a flow of bikes coming in and a few going out all the time, and that is satisfying.

The bikes are such a visible sign of what we do at LINC. They make it possible for residents to get to a job, get to classes. It's a step, a tool.

Absolutely. Many residents have used bikes to ride to work or get downtown. There was a resident who rode to the north campus of CFCC. Bikes help with getting to the stores nearby and provide another avenue for getting exercise.

You get a lot of satisfaction from doing this work, without expectation that there's any tangible reward.

You can't do this expecting something in return. At least, that isn't my approach. I'm committed to doing what I can reasonably do and I don't expect anything back. Over the course of more than 40 years of professional work in the mental health field, I came to see that I could offer what help I had to give, but I couldn't be personally responsible for other people and what changes they made in their lives.

I also came to see that I wouldn't always know whether my efforts had been helpful or not. I couldn't work with the expectation of appreciation. I had to take satisfaction from doing the best I could do to be of assistance. I've done okay with that. I'm not immune to disappointment, I've been discouraged at times, and I've been taken advantage of from time to time, but it's worth the risk. I understand that I can't fix everything in the world; I can only do my small part.

I feel satisfied every time I see one of our residents riding a bike.