Meet the People Behind LINC: Tracy Wilkinson, LINC Board Vice-Chair

You've been on the LINC board for ten years. That's a long run; how did you first get involved with the organization?
I was connected with LINC by Leann Quattrucci. She and I are good friends and we have practiced law together for a long time. We have many of the same interests, especially social justice issues, and definitely reentry is one of those.
After she introduced me to the organization, it was instantly, "Oh, yes, I'm onboard, I'd love to be involved."
Things have evolved in the field of reentry in the last decade. What changes have struck you as the most impactful?
What's new about reentry work in the social justice world, is that it is being recognized as important. Surrounding reentry, and what people face when they are trying to reentry after incarceration have always been around – we've always been dealing with those, but what is happening now is it is on everybody's radar that this is a thing. That we should try to make this a bit easier for people.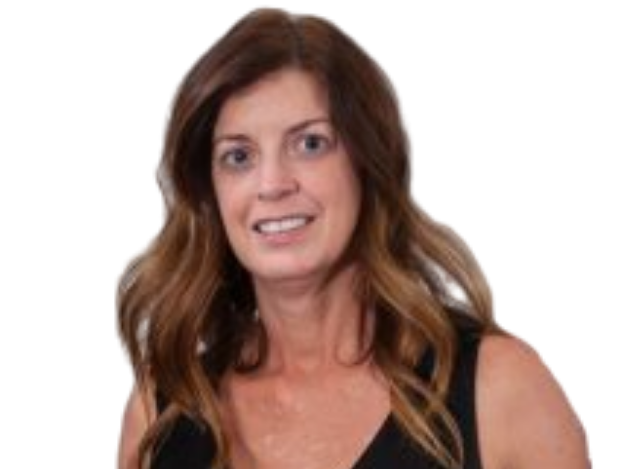 I've noted that there is really a buzz now, on major media, on social media, and in the community. It really is only in the last five years that supportive reentry has come to the forefront as a social justice issue. Maybe really a jump in awareness in the last two or three.
In the ten years that you've been involved with LINC, have you seen a similar evolution in the awareness of what the organization does for returning citizens?
I've seen a huge shift in the appreciation for the work that LINC does. Absolutely. And even that people know the terminology, and that it's on their radar.
Most people have no experience with these issues. If you've never been incarcerated, and if you've never directly known anyone who was incarcerated, you have no idea what people face. At all. That there really are issues.
I think that people were just under the impression that, oh yeah, people get out of prison, and they go on with their lives, and everything is great.
Employers that were not hiring people, maybe, recognized that there were people who weren't employable. Or what they thought was "employable." But for most people, unless you were dealing with the barriers of returning from incarceration, I don't think the issues even occurred to them.
The higher profile of the issues and of the organizations that help people who face those challenges has really gone a long way to change attitudes. So what is your personal connection to the work of supportive reentry?
My connection goes way back to when I was an undergrad. I did my internship with the pretrial services in Buncombe County, North Carolina – I graduated from UNC-Asheville. So, that was the first time that I was dealing with individuals who were incarcerated. Seeing them on daily, and interacting with them on a daily basis, and it just became a part of who I was and what I was interested in.
When I graduated from undergrad, I got a job with the pretrial services office in Gilford County. While I was on the pretrial end, and not necessarily on the after-incarceration after a prison term side, I was certainly dealing with getting people out of jail, and situated and waiting for their trial to happen. Some of those people face the same issues – not to the same degree as the people that LINC assists – but if they've been in jail for any amount of time, they could have lost their job, their housing… all sorts of things. I feel like I've been dealing with these issues really since '93.
My first legal job was with Prisoner Legal Services. I had clients that I would have for a number of years, and when they were incarcerated and then even when they were later released from prison. They could have a case still pending, and we could still be still be working with them. I was trying to assist them with reentry issues. Where are they going to live? Who is going to help them? Where can they get a job?
After I left that job, I came down here to Wilmington.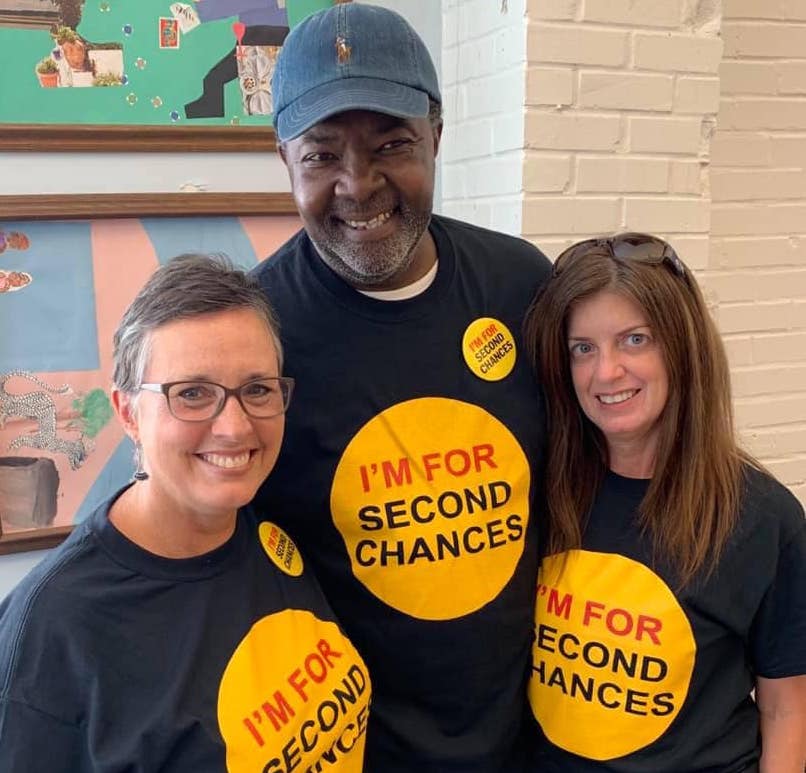 That was definitely great preparation for working with an organization that has the mission of LINC.
Yes, it was all the same things we deal with now at LINC.
As the lawyer, or the advocate, I was on the phone, trying to find resources in the community for my clients. At that time, no, there were no resources like we see today. And especially no resources like LINC.
Where do you see resources still need to grow? Things are not perfect in opportunities offered for returning citizens. Where do we go from here?
Oh, things are definitely not perfect. I think we are really going to have a mindset alteration – in the whole country – about people who have been incarcerated. We have this legal system setup. If you are found guilty of something, and, with structured sentencing, there is a framework for the appropriate time for someone to serve to atone for their wrongs.
But it doesn't end there for the person who goes to prison. I think that we must have a mindset that once someone leaves these walls, restoration is necessary, and people cannot just linger with a criminal label.
If serving the time that was sentenced equals paying a debt to society, then there is that. Someone coming out of prison should be whole again.
I think that until the mindset of others who haven't had that experience, or a relationship with someone who is impacted by that experience, is open to that concept of wholeness. I don't know where we go without our communities making that shift.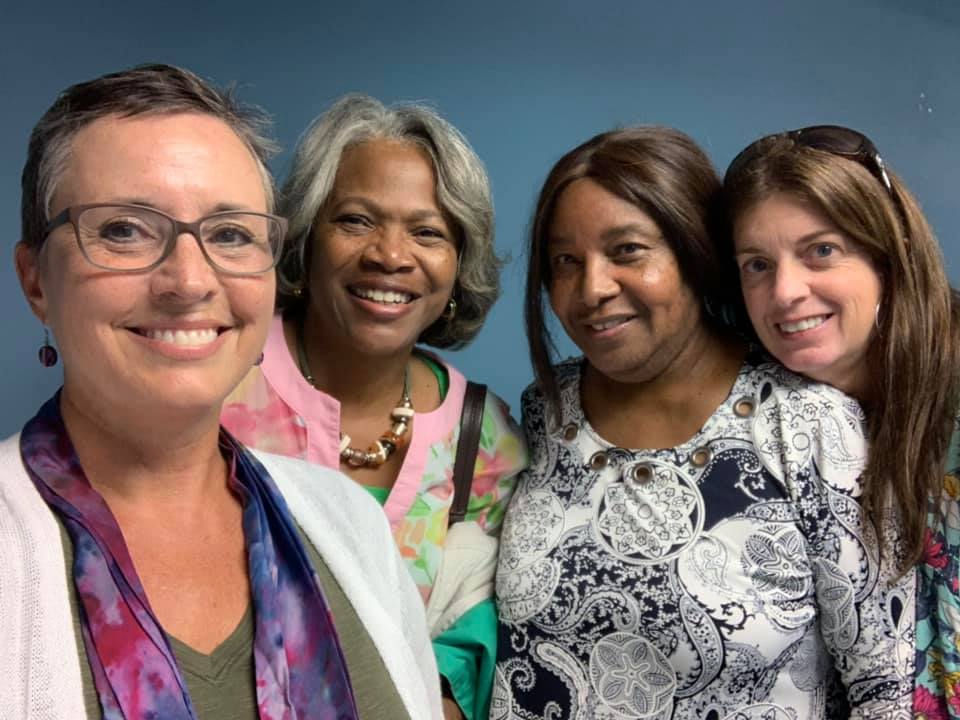 It involves so many millions of people. It is just daunting. It must be overwhelming to think about the changes that still need to happen. How do you keep yourself positive because between your work and your volunteerism, it's a huge part of your life?
It really is daunting. I just think, you know, that I'm a helper, and that's what I do. I just think there are people who are helpers, and that's what they do: they help others. I think how I stay positive is that I'm trying to make a difference, and I do make a difference. However significant, or how slight, it is, I'm doing something on an individual level.
I try to keep my mind on the changes I can make. You have to have a lot of self-care in this field. It's interesting – Frankie is an excellent example – you live the work, or you don't.
Some people don't think that's the best idea; that to be effective you have to have some sort of separation. But I don't know how to do that. Clearly, Frankie doesn't know how to do that either.
Everyone who works at LINC has that level of investment, I think. Hearing you talk about it – and the other board members, too – emphasizes the amount of commitment to helping people, as Frankie says, "turn their setbacks into comebacks."
Yes, absolutely. There has to be a passion for the cause, and a drive to take on all the issues that surround reentry. There really isn't the option to walk away. For people who are in the field, it's a hard choice to do the work, but then again it isn't. No one would be upset if you had to take a break, but when you live it, you are here to see changes so you put in the time.
This work for me is very personal. I'm still in contact with many of my clients, and I am happy with their successes. That makes it worth working for awareness and change: to make things better for people.